Bringing the Best Business Practices to your IT Department
SAVE TO PDF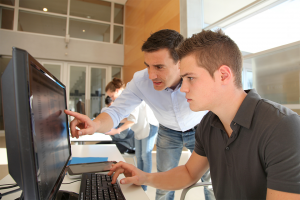 As part of the IT management team, a large part of your job is not coding or creating wireframes, but setting strategy and making decisions… sometimes hard decisions, at that. Being fiscally responsible is a part of management, not being certified in several programming languages or technology toolsets.
This means that you walk a fine line. While it's imperative to understand the role of IT, you also must understand a strategic business environment. This includes understanding how effectively manage people, build a collaborative team, manage bottom-line costs savings and support line of business (LOB) managers with the right technology in order for them to be successful.
If you are new to IT management, here are four tips to help you get things right:
Emphasize collaboration
Teams have to produce results, and a collaborative group environment is essential for the team's success. The keys to a successful collaborative environment include:
Everyone working towards a common goal – one that they understand and can internalize
Trust in the group
An understanding of everyone's role within the group and how those roles must work together.
Promote risk-taking
Risks are necessary to make change happen. People and companies who are unwilling to take risks will stagnate and stop innovating. IT leaders must learn to balance risk-taking and failure. This applies to employees as well. Great leaders know how to maximize the abilities of those they manage, and they allow their direct reports the freedom to make mistakes,
Communication
Communication is of paramount importance, within or outside the IT department. However, when lines of businesses and IT try to collaborate, unfamiliar language can be a huge problem. Without communication, there is no exchanging of ideas which in turn stymies innovation.
To combat this, ensure that everyone is on the same page. This means that you have to take responsibility for being heard and understood.
Train multiple people to handle a variety of projects
No matter how talented, smart and educated one person may be, they cannot do everything that needs to be done alone. It is simply not possible, and it puts the entire organization in a precarious position. If that person leaves, the sound of that person's tribal knowledge walking out the door will be deafening. Therefore, constantly work to surround yourself with talented people, work to recognize their different talents and cross-train, cross-train, cross-train.
When you're ready to build your IT team, think of Snelling. Locate your Snelling local office today to learn more about sourcing, hiring and retaining top IT talent.