6 Questions to Ask At a Stay Interview & Reduce Turnover
SAVE TO PDF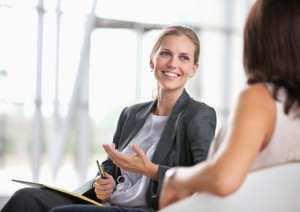 Has a great employee just given two weeks' notice? Think more might soon follow her lead?
Even if you're confident that nobody is thinking of "jumping ship," your company is probably still at risk. Employees do not announce their intention to search for a new job. They announce when they are leaving.
However, there is something proactive that you can do to stem the tide. It is called the "stay interview", and it is different from the "exit interview", which is designed to gather information and identify problems after the employee is committed to leaving. The focus is on why the employee left. In a stay interview, the focus is on "why the employee continues to work for your organization" and is done before there are any signs that he/she is considering leaving. It gives you the opportunity to identify and solve problems; it shows you care.
So make the commitment to conduct periodic stay interviews. A perfect solution would be to incorporate them into your performance review process. Unsure where to begin?  As an employment and staffing expert, Snelling has some specific questions that you could ask during the interview.
What, specifically, excites you about your job? What makes you want to jump out of bed in the morning? (NOTE: the point is to identify what exactly the employee loves about the job – whether it be co-workers, tasks, etc.)
Do you feel that you get to utilize all your abilities and skills? (NOTE: the goal is to find out if the job aligns with the employee's expectations or if they feel like they are being stymied).
What did you love about your last position that you are not doing now?  (NOTE: the idea is to identify areas where the employee could utilize under-utilized skillsets, thereby improving engagement levels)
Do you believe that your ideas or concerns are addressed? (NOTE: when employees feel that they are heard and valued, they are less likely to look for employment elsewhere).
If you could blink your eyes and add/remove a task or duty from your job role, what would it be? (NOTE:  again, the goal is twofold….to try and gage if the job role aligns with the employee's perceptions and to identify any potential missed skillsets that could be utilized).
What are your biggest sources of stress, frustration or anxiety in your job? (NOTE; this might be a rather blunt question and may take a little bit of elicitation, but the goal is to look for sources of discontent and determine the ways the employee has (not) resolved any issues).
Turnover happens, but if you are looking for some more way to reduce turnover (and therefore the cost of turnover, contact Snelling. As a leading staffing firm, we can find the best-fit employees for your job openings.  And when you hire the right people for the right jobs….they are more likely to stay.  So contact us today, and let's see how to get started.