Six Steps to Avoid Being "Ghosted" During Your Job Hunt
SAVE TO PDF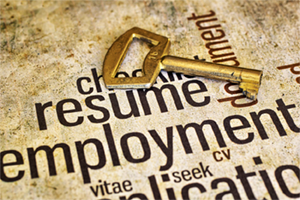 Job hunting is a lot like dating. You put your best foot forward and submit your resume or fill out an application and you never hear back. Maybe you actually make it to the interview and think you did great only to be ghosted by your recruiter.
There are so many facets that go into the job hunt, but the biggest component remains your resume. It is like your online profile; it represents your best foot forward. It is the first impression that the recruiter or hiring manager will have of you. Therefore, to keep from getting ghosted (i.e. getting placed in the "no" pile), you need to improve this profile.  Not sure how?  Well, as a leading recruiting and staffing firm, Snelling has 6 tips that will help you do just that.
Put a professional-looking photo on LinkedIn.
No, you do not need to put a picture on your resume, but let's face facts. Once you apply for a job, the first thing a recruiter or hiring manager will do is look for you online. And when they find you, the first thing they will look at is your LinkedIn profile and your photo. So have a good one…and make it a nice, professional one.  Just like dating, first impressions are crucial and showing the world a well-lit photograph of yourself (without your spouse, your dog or your children) will give the recruiter an accurate picture (excuse the pun) of you as a candidate and a person. For some great tips on how to take your own fabulous LinkedIn photo, click here.
Don't be vague. 
Whatever you do….do not be vague on your resume.  If you accomplished something, state it clearly, using plenty of action verbs and short concise sentences. In addition, tell the recruiter what the results were. You did not work to simply fill a seat in an office, warehouse, wherever (you get the picture). You worked to get a job done and produce results. So tell the recruiter what you did and what the results were. For tips on how to do just that, click here.
You need to be active on social media – but in the right way. 
The more transparent you are with your potential employer and recruiter, the more comfortable they will be with their decision to make you a job offer. Remember, it is not just about skills; hiring managers want to make sure that you are a good cultural fit as well. Therefore, you need to have an online presence, but you need to manage it.  Take some time to check and clean up your online profile and your pages. This is important, because you will be rejected if a recruiter sees something that rubs him/her the wrong way. So remove pictures of beer cans, sweaty /drunk pictures of you and your buddies, and anything else that could be construed as offensive or radically political.
List your skills at the top of your resume.
It is a known fact that recruiters scan resumes, looking for keywords. When you add a separate skills section right at the top of your resume, you are making it easy for the recruiter to get the information she needs. However, do your homework. Read the job description, and reorder (if necessary) the skills you have listed. For example, if the company wants someone with WordPress experience and you have that skill, place it at the beginning of your list.
Use good grammar and spell correctly 
Make sure that you spell correctly and use appropriate grammar. It shows that you pay attention to details, which is one of the biggest intangible skillsets that employers look for. This means that you need to utilize spellcheck (and even an old-fashioned dictionary) if necessary. In addition, find a trusted associate to review your resume and provide feedback on verb tenses, sentence fragments and the consistent use of punctuation (among other things).
Use bullets and whitespace – they are your friend. 
It is a fact.  Thanks to tablets and smartphones and (even) website landing pages, we read differently. We skim. We read the first line of a paragraph. Our eyes are immediately drawn to bulleted and numbered lists.  Whitespace also helps. Without it, anyone who looks at your resume will become overwhelmed and push it into the "no" pile.  So think hard about what you want to put on your resume. Trying to cram every single point will not make a recruiter immediately pick up the phone and call you because he saw that "one magic word".
So you ready to get started?  Snelling has all the resources you need to keep the ghosts at bay.  Check out our Candidate Resource Hub to learn how to write the best possible resume you can.  Then, when you are ready to start your job hunt in earnest, contact us, and let's get started.