Real-World Tips for Creating a Manufacturing Cover Letter
SAVE TO PDF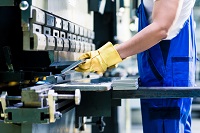 To land a manufacturing job today, you need skills. Technological advances have made most high-paying manufacturing jobs out of reach for those with just a high-school education.  However, once you gain your certifications – from NCCER or ISA or the American Welding Association – you need the marketing skills to promote yourself.
It takes both to rise above the competition. The majority of job applicants will do the bare minimum; they will simply turn in an application or maybe even a resume. However, that is not enough if you want to land a top job in an established, stable manufacturing company. You need to go the extra mile, and that includes writing a personalized manufacturing cover letter.
A cover letter is a fantastic marketing tool. It introduces you to the hiring manager and allows you to introduce yourself and your skillsets in a much more personalized, conversational tone.
Personalization is Key to a Great Manufacturing Cover Letter
Before you even begin, take the time to personalize your cover letter. LinkedIn is a great place to start when trying to target the right person. Simply look up the company and start digging.  If you are working with a staffing firm, find out from your staffing recruiter who you should address the letter to.
Manufacturing Cover Letter Components
Your cover letter should be one page long and no more than four paragraphs. If it is much longer, it will seem daunting and not be read.
1st paragraph- Come right out and tell the person what position you want to apply for and how you came to know of it.  Briefly state why you are interested. If someone referred you, here is the place to state that as well.
2nd paragraph- Explain the key skills, certifications, experiences and achievements you have that will make you successful in the position. Think about everything you have done in the past and how it relates to the key skills are highlighted in the job description.  If need be, create a (small) bulleted list that aligns your achievements and know-how with what is outlined in the job description.
3rd paragraph- Here is where you show a little of your research capabilities. Investigate the company. Go to their web site, talk to current employees (if possible), read their blog posts.  Google them and see if anything comes up in the Google newsfeed. Finally, if you are working with a staffing firm, ask your recruiter for any insights.  This research does not have to be extensive. It just needs to highlight the fact that you are motivated and have done some homework. Motivation and homework impresses hiring managers.
4th paragraph – Tell the reader how excited you are to interview. Remember, a cover letter is not designed to get you a job; it is designed to get you an interview. No one is going to read your cover letter and immediately pick up the phone to make you an offer. End the letter by thanking the person for his/her time and attention.
It is very important that the cover letter not come across as a form letter where only the address and the contact name are changed. Put a little thought into this document – you will be surprised at the results.  However, that does not mean that you cannot create a thorough shell document, change out relevant, applicable skills and salient points and change out the company information.  You are still putting in the work, but you are not creating the document new every time. Think of it as making a cake from a box mix vs. from scratch. You still have to put in the work….one process simply provides you a template to work from and speeds up the process.
For more tips on improving your cover letter turn to Snelling.  No matter where you located in the United States, if you are looking for a manufacturing job, we can match you with local employers. Search our available jobs and contact us today.